Vermont Tennis Racket & Bag Set
Vermont Tennis Racket & Bag Set
Professional Vermont Tennis Set With Rackets & Bags
Premium Tennis Rackets
Expertly created by tennis experts, the Vermont Colt Mini & Vermont Contender Tennis Rackets balance supreme durability with an exceptional performance level. Suited to all ages & abilities, these rackets ooze quality.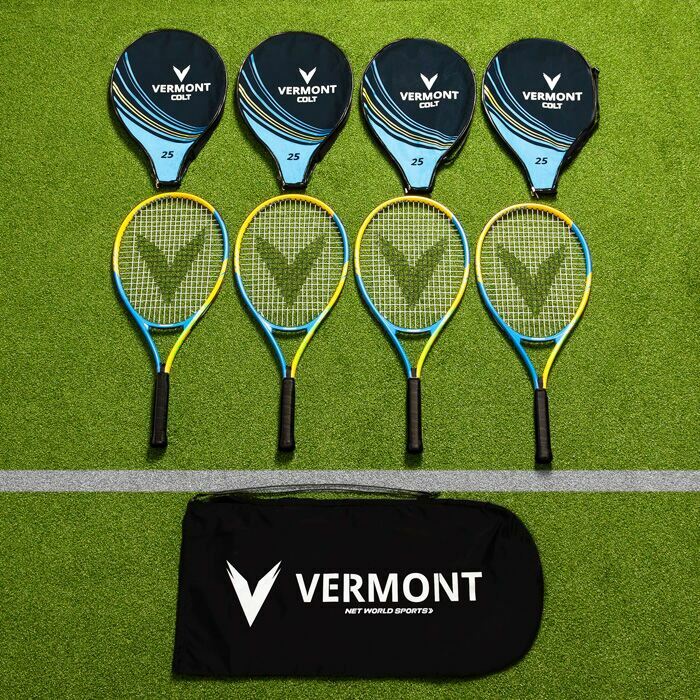 A Set For Tennis Coaches
The Vermont Tennis Racket & Bag Set is an absolute must-have for tennis coaches on the move. The mixed package option allows coaches to have a variety of different sized rackets – perfect for those who regularly deliver sessions to a range of players.
Top Quality Racket Bags
Available in four different sizes (4, 12, 24 & 36), the Vermont Tennis Racket Bags allow players & coaches to store & transport their tennis rackets with ease. Made using heavy duty Oxford Polyester Material, they're super durable too!
Description
Top-Quality Tennis Rackets With Pro Standard Tennis Racket Bags
As a tennis brand, Vermont is all about producing professional quality that all players can enjoy, and with this racket & bag set, this is an absolute guarantee. With the Vermont Colt Mini & Senior Tennis Rackets covering 4 sizes, this set offers something for players of all ages. From under 8's picking up a racket for the first time to established senior players looking to take their game to the next level, these tennis sets have it all. Available in four different quantities ranging from 4-36 tennis rackets, each set comes with a Vermont Tennis Racket Bag included.
Vermont Tennis Racket & Bag Set – choose from 4, 12, 24 & 36 racket quantities
Vermont Colt Mini Tennis Racket – 53cm, 58cm & 63cm
Vermont Colt Senior Tennis Racket – 69cm
Racket sets feature a Vermont Tennis Racket Bag (size dependent on quantity of rackets ordered)
Mixed racket set features all sizes of rackets available
All components have been expertly created using premium-grade materials for a supreme performance
The Vermont Colt Mini Tennis Racket is the perfect fit for players beginning their tennis journey. Manufactured using premium aluminium, the Colt provides youngsters with a consistent performance whilst also delivering exceptional durability. An excellent choice for tennis coaches, these mini tennis rackets are available in three sizes (53cm, 58cm & 63cm), representing all three stages of mini tennis. For more established senior players, the 69cm Vermont Colt Senior Tennis Racket is an excellent option. Similar to the mini tennis rackets, the aluminium construction provides an outstanding performance level, giving players a supreme balance of power and control.
As well as high-quality tennis rackets, this Vermont Set also features professional standard tennis racket bags to allow you to store and transport your equipment with ease. Available in four sizes (4, 12, 24 & 36) to match the racket quantities, the racket bags have been expertly crafted using polyester oxford fabric for exceptional durability. The smaller sizes (4 & 12) feature a drawstring design and can be simply carried over the shoulder for user comfort. The larger racket bags (24 & 36) come with heavy duty metal zips whilst the 36 racket version also features heavy duty wheels and a pulley handle for added convenience.
Specifications
Vermont Tennis Racket & Bag Set Specifications
Set Contents (QTYs of 4, 12, 24 & 36):
Vermont Colt Mini Tennis Racket (48cm) + Vermont Tennis Racket Bag
Vermont Colt Mini Tennis Racket (58cm) + Vermont Tennis Racket Bag
Vermont Colt Mini Tennis Racket (63cm) + Vermont Tennis Racket Bag
Vermont Colt Senior Tennis Racket (69cm) + Vermont Tennis Racket Bag
Mixed Package: 1x each Vermont Tennis Racket in multiples of 4
Each set comes with a Vermont Tennis Racket Bag (size is determined by number of rackets ordered)
Materials:
Vermont Colt Mini & Senior Tennis Racket: Premium-grade aluminium (supreme durability)
Vermont Tennis Racket Bags (4 & 12): 210D Oxford Polyester Fabric
Vermont Tennis Racket Bags (24 & 36): Heavy Duty 600D Oxford Polyester Fabric
Racket Bag Dimensions:
4 Racket Bag: 76cm L x 36cm W | 30in L x 14in W (drawstring design)
12 Racket Bag: 76cm L x 49cm W | 30in L x 19in W (drawstring design with shoulder carry strap)
24 Racket Bag: 89cm L x 46cm W x 36cm H | 35in L x 18in W x 14in H (Carry handles & shoulder strap)
36 Racket Bag: 92cm L x 38cm W x 36cm H | 36in L x 15in W x 14in H (Carry handles & wheels with pulley handle)
Recently Viewed
RapidFire Football Rebound Board
₹ 21,599.00
FORTRESS Pop-Up Cricket Batting Net
₹ 26,999.00
FORZA Helix Rugby Ball – Classic Training Ball
₹ 1,199.00
Heavy Duty Bird Netting [All Mesh Sizes]
₹ 79.00
FORZA ProFlex Goal Base Weight
₹ 1,949.00