3m Fixed Netball Posts Manufactured From Galvanised Steel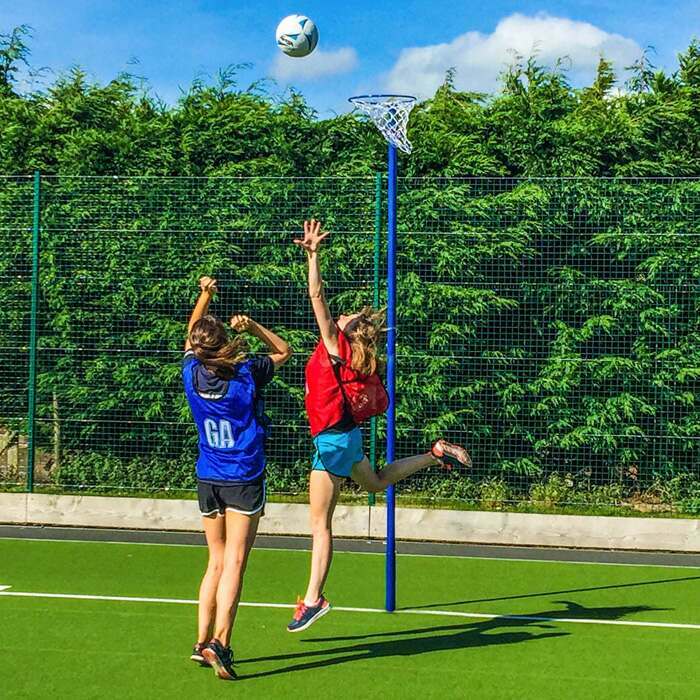 Fixed Netball Posts
The provided 46cm ground sleeves will keep these socketed netball posts in place helping you to create a permanent netball court.
High-Quality Competition Nets
Supplied with 2mm thick knotted twine nets these socketed netball posts have everything you need to host competitive games and training sessions.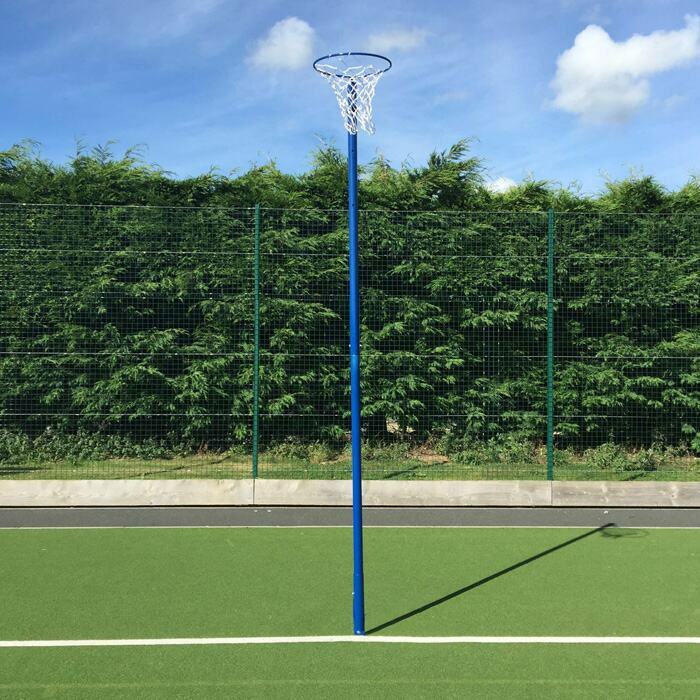 Galvanised Steel Posts
Manufactured from galvanised steel which is finished with an ultra-durable blue powder coating these 10ft netball posts are rust and corrosion resistant.
Description
Regulation 10ft Tall Socketed Netball Posts With High-Quality 2mm Knotted Nylon Nets
Create a permanent netball court with these 3m (10ft) tall socketed netball posts. Complete with 46cm (18 inch) ground sockets, a 38cm (15 inch) hoop and a hard-wearing knotted twine net, these steel netball posts can be used in schools, leisure centres and professional training grounds.
3m (10ft) tall socketed netball posts can be adjusted to heights of 2.75m (9ft) or 2.5m (8ft).
Ground sockets are 46cm (18 inches).
Posts are manufactured from 50mm (2 inch) galvanised steel finished with a blue powder coating.
Competition spec 38cm (15 inch) diameter netball hoop made from 11mm (0.4 inch) thick steel.
Regulation netball net is made from 2mm nylon twine.
Socketed posts are available individually or as a pair.
To provide the optimum level of durability and fight off rust these 50mm (2 inch) diameter galvanised steel posts are finished with a blue powder coating. This premium construction is continued into the regulation size netball net provided. Fabricated from high-quality knotted nylon this 2mm net will not rip or tear as netballs sail through the 38cm (15 inch) steel hoop.
Whether you plan to play regulation netball, high five ball or netta these posts can be lowered to heights of 2.75m (9ft) or 2.5m (8ft), this adjustable design also makes these posts suitable for younger players.
Specifications
Size
Standard height: 3m (10ft) tall
Adjustable heights: 2.75m (9ft) or 2.5m (8ft)
Hoop: 38cm (15 inches) in diameter
Ground socket: 46cm (18 inches)
Materials
Posts: 50mm (2 inch) galvanised steel finished in a blue
Hoop: 16mm (0.6 inch) steel
Goal net: knotted nylon twine
Miscellaneous
Hoop conforms with competitive netball regulations
Socketed posts permanently anchor posts in place
Available individually or as a pair
You may also like
FORZA International Match Netball
₹ 1,614.00
Wall Mounted Netball Ring
₹ 2,199.00
FORZA Alu80 Netball Posts
₹ 21,849.00
Netball Bibs [Pack of 7]
₹ 1,424.00
Recently Viewed
Roll Down Cricket Matting - 2m Wide (Indoor/Outdoor)
₹ 5,899.00