Slalom Training Pole Carry Bag
Slalom Training Pole Carry Bag
Weave Your Slalom Poles In And Out of the Training Carry Bag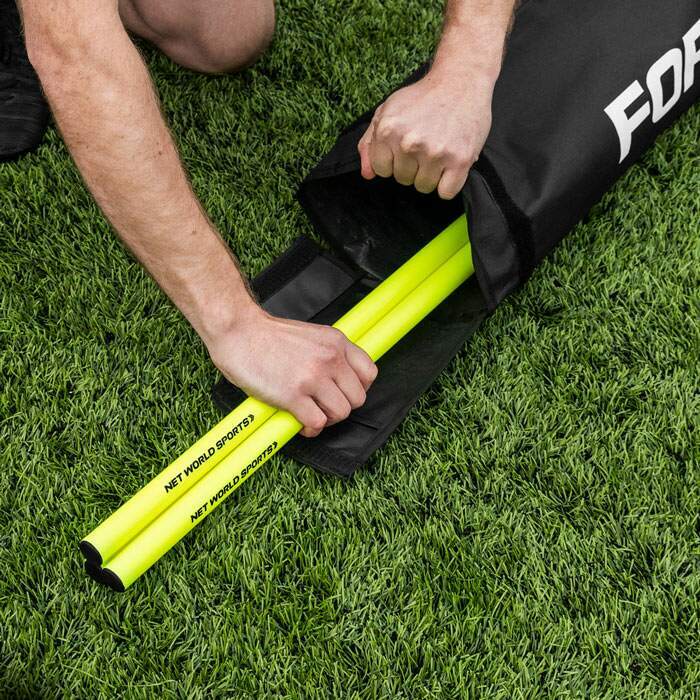 Fastening Opening Top
The slalom poles are secured with the fastening on top of the bag. Extremely durable, the top makes for an easy life when putting slalom poles away.
Durable Material
Manufactured from a tough, long-lasting material, the slalom pole training carry bag is a perfect storage unit for when your slalom poles are not in use.
Strong Handle
The strong, heavy duty handle of the slalom pole training carry bag allows for ease of movement when taking your slalom poles to and from the training field.
Description
Simply Transport Your Slalom Poles With This Convenient Carry Bag
Slalom poles are a necessary piece of kit for any coach and as a large and long item, they can be difficult to store and transport. With this spacious carry bag, you'll be able to easily take your speed and agility training to any destination.
Manufactured from a durable and weatherproof material
A spacious bag perfect for carrying Net World Sports 6ft and 5ft slalom poles
Features a convenient and bold handle for easy transport the set to and from the pitch
Can comfortably accommodate 16 slalom poles
The Slalom Training Pole Carry Bag offers each user an easy solution for transporting and storing training equipment. Each bag can hold up to sixteen poles and with an added sturdy shoulder strap that ensure that the poles are safely and comfortably secured, carrying your slalom poles has never been easier.
Designed to accompany the Net World Sports 6ft and 5ft slalom poles, this spacious carry bag is perfect for protecting your poles from damage during transportation. The strong and thick top ensures that the contents of the bag stay firmly in place, while also guaranteeing that you have full accessibility to your equipment.This compact carry bag is ideal for effectively storing your equipment and due to its heavy-duty weatherproof composition, this long-lasting slalom pole bag will last for years to come.
Specifications
Specifications:
Bag holds up to 16 poles
Measurements: 6ft (183cm) in length, 0.55ft (17cm) diameter
Holds both 5ft and 6ft Spring Loaded Slalom Poles
Fastening top for secure enclosure
Shoulder strap for easy carrying
Made from heavy duty, long-lasting material
Carry bags are an easy solution for storage and transportation of training equipment
You may also like
FORZA Pump That Ball™ - Ball Pump and Needle
₹ 664.00
FORZA Speed Training Hurdles [6 Pack]
₹ 1,614.00
FORZA Football Training Passing Arcs
₹ 2,099.00
Football Evasion Training Belt
₹ 474.00