Harrier Luxury Garden Sofa Set [Build Your Own] - Charcoal/Teak
Harrier Luxury Garden Sofa Set [Build Your Own] - Charcoal/Teak

OUTDOOR PREMIUM GARDEN FURNITURE SETS FOR GATHERINGS
YOUR OWN DESIGN
From various styles available for multiple garden sizes, the outdoor furniture set ensures a unique setting can be designed by you for an exclusive garden experience.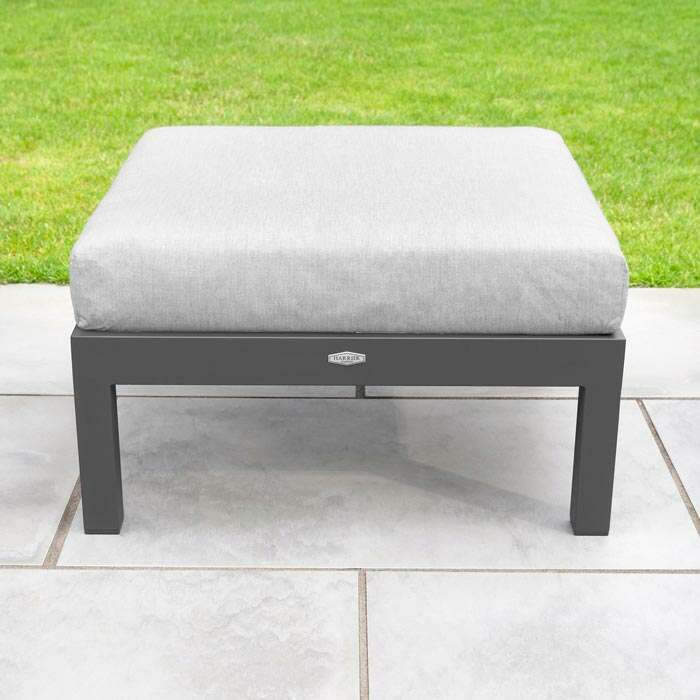 MULTIPLE GARDEN AREAS
With a full seated sofa set & an ottoman footrest, large table or sun loungers to choose from, the outdoor garden furniture easily enhances garden gatherings all year round.
MODERN & DURABLE FINISH
The durable Harrier Luxury Garden Sofa Set boasts rust, scratch & corrosion resistant powder coated aluminium frames. The thick padded cushions enhance comfortability.
Description
Harrier Luxury Alu Garden Furniture Sets – Build Your Own
Choose from our vast range of luxury charcoal/teak garden furniture to either extend or build-your-own deluxe outdoor furniture set-up. The entire range makes up Harrier's premium charcoal/teak furniture sets & with this listing, you can pick & choose components to perfectly suit your garden. Every piece of luxury garden furniture features a premium aluminium construction for supreme durability combined with a light-in-weight nature for easy movement. The high-grade alu frames also feature a elite powder-coating, giving them exceptional resistance to rust, corrosion & scratching.
DELIVERED FULLY ASSEMBLED - Simply unpack & enjoy.
Looking After Your Garden Furniture
We recommend taking the following simple steps to keep your outdoor garden furniture looking new/clean whilst preventing weather damage:
Store cushions indoors when not in use – ensure storage area is dry & free of vermin
Store product indoors during high winds to prevent accidental damage
Use weatherproof furniture covers to protect against weathering & enhance lifespan
Store product inside a garage/shed during the winter months (if not being used) to increase lifespan & prevent weather damage
Specifications
Harrier Luxury Garden Furniture Specifications
Dimensions:
Single Seat Sofa: 82cm x 82cm x 78cm | 33in x 33in x 31in – 17kg (38lbs)
Two Seat Sofa: 150cm x 82cm x 78cm | 60in x 33in x 31in – 25kg (42lbs)
Three Seat Sofa: 218cm x 82cm x 78cm | 87in x 33in x 31in – 32kg (71lbs)
Small Coffee Table: 75cm x 75cm x 38cm | 30in x 30in x 15in – 13kg (29lbs)
Large Coffee Table: 120cm x 70cm x 38cm | 48in x 28in x 15in – 19kg (42lbs)
Left/Right Hand Module: 143cm x 82cm x 78cm | 56in x 32in x 31in – 20kg (44lbs)
Corner Sofa Unit: 82cm x 82cm x 78cm | 32in x 32in x 31in – 14kg (31lbs)
Armless Sofa: 68cm x 82cm x 78cm | 27in x 32in x 31in – 10kg (22lbs)
Ottoman Footrest: 75cm x 75cm x 40cm | 30in x 30in x 16in – 9.5kg (21lbs)
Sun Lounger: 200cm x 75cm x 32cm | 79in x 30in x 15in
Materials:
Frames: 2mm powder-coated aluminium – increased strength
Tabletops/Armrests: Treated FSC teak wood
Sun Lounger: Sling fabric top – fast-drying, comfortable & long-lasting
Cushions: Extra thick (100mm) reflex foam with UV treated polyester fabric
Miscellaneous:
Cushions are fire retardant & comply with British & European Safety Standards
Furniture is delivered fully assembled
We recommend storing the sets indoors during the winter months
12 months warranty
Recently Viewed
FORZA Mini Flat Disc Markers [All Colours]
₹ 1,649.00
Tennis Court Privacy Screen Nets
₹ 12,959.00
Temporary Tennis Court Surround Net System
₹ 2,79,449.00
Harrier Overhanging Banana Parasol Base Weight [24/48kg]
₹ 4,049.00
Vermont Tennis Court Drag Brush [Artificial Courts]
₹ 23,354.00