Harrier 9kg Parasol Base Weight [Patterned Bronze]
Harrier 9kg Parasol Base Weight [Patterned Bronze]
Ornate Bronze Harrier Parasol Base Weight – A Secure Parasol Stand
Adjustable Screw
The adjustable tightening knob accommodates different sized parasols for a safe & secure hold. These parasol stands are perfect to keep your garden parasols upright to shade you from the sun.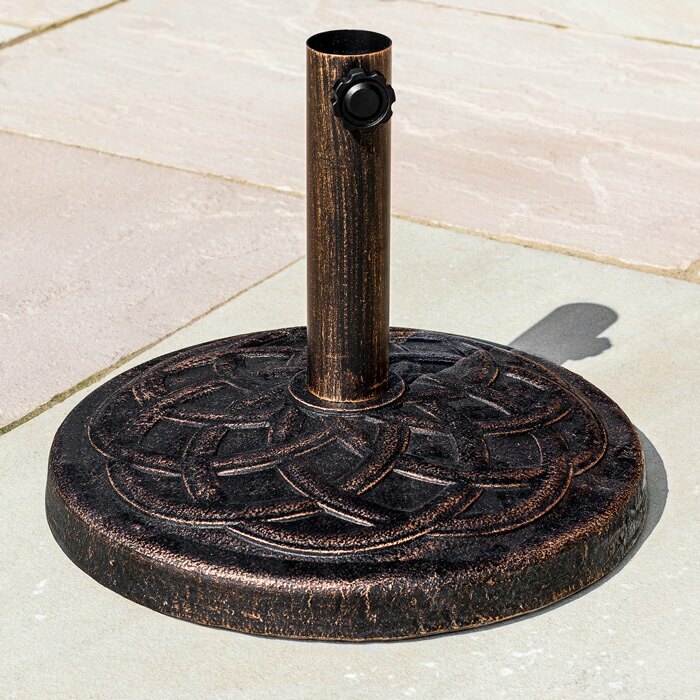 Premium Construction
A heavy weighted base with robust poly cast resin ensures supreme stability. Suitable for use throughout the year & can be placed on all flat surfaces including patios, balconies & garden lawns.
Patterned Design
Luxury ornate cast iron effect in a bronze colour makes the bases a great addition to all garden set ups. The neutral colouring ensures you can pair it with all garden parasols for a premium look.
Description
Bronze Harrier 9kg Parasol Base Weight With A Decorative Patterned Design
Complete with an attractive design, these Harrier 9kg parasol base weights are a perfect addition to your garden furniture. Suitable for use on all surface types including balconies, decking & patios. The parasol weight base securely holds all traditional style garden parasols with a maximum diameter of 57.5mm in place. A solid base includes a pattern cast poly resin which is 100% weatherproof & is UV treated to prevent it fading. The holder includes an easy to turn knob to tightly secure the parasol in place & stop it from swaying or falling over.
Compatible with all parasols with a maximum diameter of 57.5mm
Safely secure your patio umbrella into place with the weighted base
Solid parasol stand manufactured using patterned cast poly resin
Adjustable tension screw securely holds the garden parasol in place
Use on all surface types including patios, balconies & garden lawns
Luxury bronze base with a patterned design for a stylish finish
At Net World Sports we have an extensive garden range for your outdoor space. For parasols, garden furniture & more, please see the essentials above.
Specifications
Harrier 9kg Parasol Base Weight Specifications
Dimensions:
Base Size: 42cm D x 32cm H | 17in D x 13in H
Maximum Parasol Size: 57.5mm D | 2.3in D
Base Weight: 9kg | 20lbs
Materials:
Solid base manufactured from pattern cast poly resin
Miscellaneous:
100% weatherproof due to the UV treatment for long lasting use
Easy-turn tightening knob secures parasol upright & prevents wobbling
Suitable on all surface types
Colour: Bronze
Recently Viewed
120mm Football Ball Stop Netting [Standard Size]
₹ 319.00
Ball Pump Needles (Pack of 5)
₹ 499.00
PINPOINT Rubber Darts Mat
₹ 2,969.00
Ground Sockets for Ball Stop Posts - 900mm Deep for 80mm Posts
₹ 6,749.00
FORZA Aluminium Multi-Sports Bench - Sideline Sports Seats
₹ 23,354.00