FORB Professional Golf Putting Mat
FORB Professional Golf Putting Mat

Roll Down Professional Golf Putting Mat For Indoor And Outdoor Use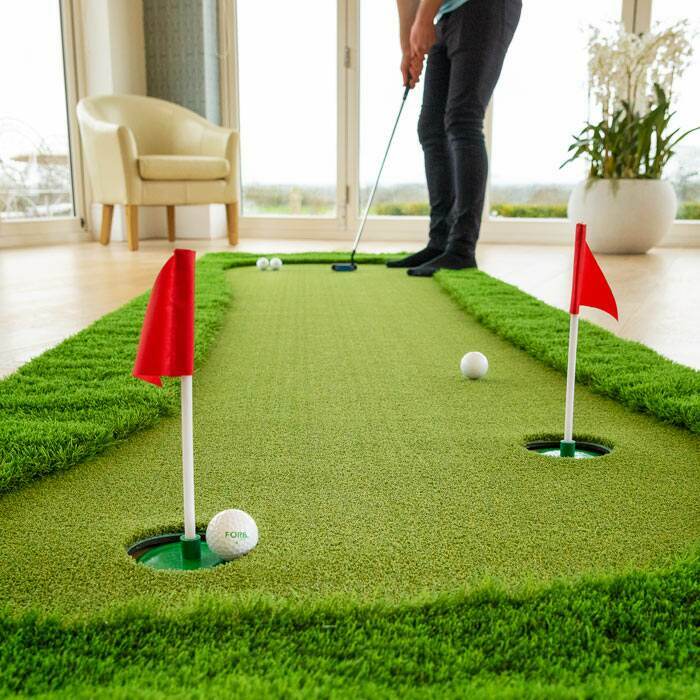 3.7m x 1m Putting Green
You can use this professional golf putting mat to improve your long and short putts thanks its two holes, which are positioned at the end of this 3.7m long green. Each hole has its own mini flag to ensure you can always see the mats holes.
Premium Materials
The putting surface of this golf mat is manufactured from high-quality 12mm polyethylene. This artificial grass perfectly replicates the performance of a premium golf course ensuring your practice sessions resulting in improved.
Roll Down Putting Mats
To ensure this putting mat is incredibly easy to store it is constructed from 12mm polyethylene and 40mm polyethylene and polypropylene curl. These ultra-durable materials will not become damaged when the mat is rolled away for storage.
Description
Roll Down Golf Putting Mat Suitable For Use On Flat Indoor And Outdoor Surfaces
Replicate the finest greens in your own home with the FORB Professional Golf Putting Mat which measures 3.6m (12ft) long and is 1m (3.2ft) wide. This premium roll away golf putting mat weighs just 16kg (35lbs) and is made to be used on any flat indoor or outdoor surface, allowing you to practice your putting technique anywhere.
3.6m (12ft) x 1m (3.2ft) FORB Professional Golf Putting Mat.
Smooth surface is manufactured from 12mm grass polyethylene.
40mm grass polyethylene and polypropylene curl provides traditional golf rough.
Two putting holes for varied practice.
Home putting mat weighs 16kg (35lbs).
Rolls away for storage, designed to be stored indoors.
Perfect for impromptu putting sessions the smooth area of this golf mat behaves like a real grass green thanks to the high-quality blend of 12mm grass polyethylene. This smooth material is surrounded by 40mm grass polyethylene and polypropylene curl which portrays the rough sections of a traditional golf course. This uneven material doubles up as a buffer which prevents inaccurate golf balls from falling of the premium putting mat.
Net World Sports stocks a range of high-quality golf equipment that can be used at home or on the golf course including FORB F-5 Golf Balls – Tour Quality Golf Balls, The FORB Practice Golf Chipping Net and the FORB Launch Pad Golf Practice Mat.
Specifications
Size
Length x Width: 3.6m (12ft) x 1m (3.2ft)
Material
Smooth: 12mm grass polyethylene
Rough: 40mm grass polyethylene & polypropylene curl
Miscellaneous
FORB Professional Golf Putting Mat is suitable for use on all flat surfaces
Two holes provide varied putting practice
Weight: 16kg (35lb)
Rolls away for storage
Store indoors
Please Note: Golf balls pictured are not included.
You may also like
FORB Launch Pad Golf Practice Mat – Dual Side [60cm x 30cm]
₹ 3,374.00
FORB F-5 Golf Balls - Tour Quality Golf Balls
₹ 1,499.00
FORB Practice Golf Chipping Net
₹ 1,349.00
Recently Viewed
FORTRESS Ultimate Baseball Batting Cage & Poles
₹ 60,614.00
FORZA Alu60 Handball Goal - 3m x 2m
₹ 46,574.00
Baseball Netting Panels [Fully Edged]
₹ 1,799.00
Vermont ProCourt Mini Tennis & Badminton Combi Net
₹ 5,399.00
Sports Ball Carry Bag
₹ 799.00